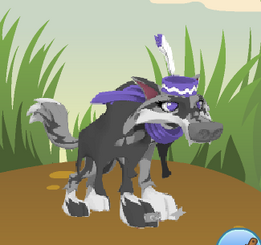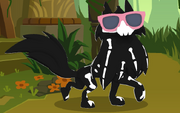 About
Aquaticflames is an artist on Animal Jam, who redraws music album covers (mostly metal and rock). She makes art only on AJPC, and she doesn't do pixel art. Her older art was created using paintbrush and airbrush tool, but now she only uses airbrush. Aquaticflames is often on a hiatus, but she does sometimes log on to make art. She sometimes draws cars and fandom stuff. She does not sell her art, but she can make a copy for free.
Facts:
4 of Aquaticflames masterpieces were not approved by AJHQ. (as of 15.10.2021)
Aquaticflames joined AJ in summer 2016, though she started making art in autumn 2018.
She prefers her masterpieces to not be traded to other people.
Current Masterpieces (dates not in order)
Judas Priest - Screaming For Vengeance




Deep Purple - Stormbringer




Judas Priest - Defenders Of The Faith




Judas Priest - British Steel




Judas Priest - Hell Bent For Leather




Blind Guardian - Mirror Mirror




Sadist - Spellbound




Megadeth - Peace Sells




Judas Priest - Stained Class




Scorpions - Savage Amusement




Iron Maiden - The Number Of The Beast




Mazda MX-5 Miata




Deep Purple In Rock




Judas Priest - Metal Works




Car-Man




Killer Queen




Colin the Computer




Iron Maiden - Running Free

Plymouth Road Runner

The Prodigy - The Day Is My Enemy

Date Painted:  29 April 2019

Time Took: ?

Facts: Redraw of Judas Priest - Screaming For Vengeance album cover

Date Painted:  14 October 2021

Time Took: 6 Hours

Facts: Redraw of Deep Purple - Stormbringer album cover. 2 versions of this masterpiece exist: one with logo and second without the logo.

Date Painted:  5 May 2021

Time Took: ?

Facts: Redraw of Judas Priest - Defenders Of The Faith album cover.

Date Painted: ? May 2019

Time Took: ?

Facts: Redraw of Judas Priest - British Steel album cover. This masterpiece was not approved by AJHQ.

Date Painted: 16 July 2020

Time Took: 3 Hour(s)

Facts: Redraw of Judas Priest - Hell Bent For Leather album cover. Was not approved by AJHQ at first.

Date Painted:  1 July 2020

Time Took: 9 Hours

Facts: Redraw of Blind Guardian - Mirror Mirror album cover.

Date Painted:  5 January 2021

Time Took: ?

Facts: Redraw of Sadist - Spellbound album cover. Was drawn to Aqua's friend.

Date Painted:  ? May 2019

Time Took: ?

Facts: Redraw of Megadeth - Peace Sells album cover.

Date Painted: 20 September 2020

Time Took: 3 Hours

Facts: Redraw of Judas Priest - Stained Class album cover. Was not approved by AJHQ at first.

Date Painted:  12 October 2021

Time Took: 4 Hours

Facts: Redraw of Scorpions - Savage Amusement album cover. Was not approved by AJHQ.

Date Painted:  10 November 2020

Time Took: ?

Facts: Redraw of Iron Maiden - The Number Of The Beast album cover.

Date Painted: ? January 2020

Time Took: ?

Facts: Picture of a Mazda MX-5 was used as a reference.

Date Painted:  9 August 2021

Time Took: 5 Hours

Facts: Redraw of Deep Purple In Rock album cover.

Date Painted: 25 June 2020

Time Took: ?

Facts: Redraw of Judas Priest - Metal Works album cover.

Date Painted:  15 October 2021

Time Took: 3 Hours

Facts: Redraw of a photo depicting Russian music duet Car-Man.

Date Painted: ? April 2019

Time Took: ?

Facts: Redraw of an anime frame depicting Killer Queen, a character from Jojo's Bizzare Adventures

Date Painted: ? October 2018

Time Took: ?

Facts: Redraw of a frame depicting Colin the Computer, a character from Don't Hug Me I'm Scared.

Date Painted: 11 November 2021

Time Took: ?

Facts: Redraw of Iron Maiden - Running Free album cover.

Date Painted: 12 November 2021

Time Took: 4 Hours

Facts: A reference was used.

Date Painted: 13 November 2021

Time Took: 3 Hours

Facts: Redraw of The Prodigy - The Day Is My Enemy album cover.

New Copies For Trade? No

Artists Price: Unknown

New Copies For Trade? No

Artists Price: Unknown

New Copies For Trade? No

Artists Price: Unknown

New Copies For Trade? No

Artists Price: Unknown

New Copies For Trade? No

Artists Price: Unknown

New Copies For Trade? No

Artists Price: Unknown

New Copies For Trade? No

Artists Price: Unknown

New Copies For Trade? No

Artists Price: Unknown

New Copies For Trade? No

Artists Price: Unknown

New Copies For Trade? No

Artists Price: Unknown

New Copies For Trade? No

Artists Price: Unknown

New Copies For Trade? No

Artists Price: Unknown

New Copies For Trade? No

Artists Price: Unknown

New Copies For Trade? No

Artists Price: Unknown

New Copies For Trade? No

Artists Price: Unknown

New Copies For Trade? No

Artists Price: Unknown

New Copies For Trade? No

Artists Price: Unknown

New Copies For Trade? No

Artists Price: Unknown

New Copies For Trade? No

Artists Price: Unknown

New Copies For Trade? No

Artists Price: Unknown
Fan Art
| Anonymous | Korjyk | Doggle52 | | |
| --- | --- | --- | --- | --- |
| | | | | |